Description
IMPORTANT: Be sure to read the Download and Installation section below BEFORE you purchase this software. It is important to create an account before you make a purchase so that the link to download is provided. If you have issues, contact sales@spacew.com and we will manually process your order.
New Release – Build 45 is Now Available – March 2023

Version 3.2 Build 45 is a very minor update that permits operation of Proplab-Pro without the Internet. Formerly, this would have produced pop-up errors. Now, a checkbox in the Main Options / Other Options tab allows you to mute these errors. Proplab will still attempt to connect to the internet, but any errors produced will be ignored, thus eliminating the pop-up errors that may have inhibited operation without an internet connection. Note that Proplab uses the Internet only to obtain fresh data files used by the International Reference Ionosphere, as well as geophysical data files such as the solar flux, sunspot number and current geomagnetic conditions. It does not send or receive any other information, other than standard internet requests for this information from various servers on the Internet.
Build 44 – February 2023
Version 3.2 Build 44 is mostly a bug-fix. It corrects two problems and adds one new feature:
It corrects the geomagnetic K-index computations to support the new decimal values provided by the Space Weather Prediction Center.
An inconsistency occurred in the global ionospheric maps that computed incorrect ray-traced maximum usable frequencies ("Dynamic MUFs") if the starting and ending elevation angles used during the computation (in the Compute MUFs tab) were of equal value.
This build also adds a new checkbox in the Compute MUFs tab that allows all computed MUFs and related information to be saved (appended) to a text file named MUFOutput.txt located in the installation folder of Proplab.
Version 3.2 Build 40 provides a significant new ionospheric slicing tool. You can now generate, view and export any number of short or long-path ionospheric electron density profiles with ease. A sample screen shot (zoomed out and zoomed in) of this new feature is shown below.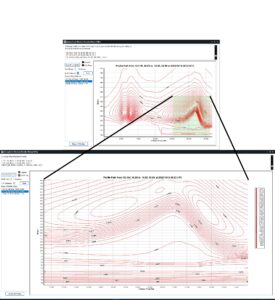 Using this new feature, the tilt of ionospheric layers on any great-circle path can be examined. The underlying electron density data is also saved to simple text files that can be imported in other software packages. Review the manual under the section Slicing the Ionosphere, page 81, for more information.
This update is free to those who currently own Proplab-Pro. Use the same download instructions you originally received to obtain it.
New Version 3.2 is Now Available
This is a major update from the prior Version 3.1 and includes a lot of minor bug fixes and enhancements. The most significant enhancement is the introduction of a Backscatter Analysis tool for 2D ray-tracings. This tool can be used to provide radio engineers with information concerning backscattered signals in complex situations. Version 3.2 handles both land and ocean backscattering and it is smart enough to determine whether an ionospherically traced signal reaches hard ground or the ocean. This version will also analyze multi-hop backscattering. It can be used to help determine signal levels that might exist INSIDE the skip zone, or even well behind the transmitter on azimuths that are opposite to the transmission azimuth. Most other aspects of Proplab-Pro Version 3.2 appear similar to Version 3.1.
Proplab-Pro was one of the first ionospheric physics-based HF radio signal ray-tracing engines in the world for the PC, and has been maintained and developed for over 30 years. It continues to be used by research organizations, scientists, engineers, students, the military and amateur radio operators around the world. It is one of the only software packages to reliably predict ionospherically refracted HF radio signal behavior. It uses both three dimensional models of the ionosphere as well as three dimensional topographical data of the Earth to provide unprecedented detail in modeling HF radio signal propagation worldwide.
Minimum System Requirements
Windows 7, 8 or 10.
256 megabytes (MB) of memory
2.45 gigabytes (GB), or 2,450 MB of free hard-disk space
1.0 GHz microprocessor (the faster, the better)
Monitor capable of 1024 x 768 pixels

Recommended System Requirements
Windows 7, 8 or 10.
512 MB of memory
2.5 GB or 2,500 MB of free hard-disk space
2.0+ GHz microprocessor
Monitor capable of 1680 x 1050 pixels

Download and Installation Procedure (IMPORTANT)
Once you have made your payment, you will be directed back to our web site. If you checked the box during the checkout procedure that creates an account for you, you will be able to download the software after clicking on My Account and signing in. If you did not check the box that automatically creates an account for you during the checkout procedure, you should be redirected back to Solar Terrestrial Dispatch after the payment and you should immediately see the links to download the software. If for any reason you do not see the download links, or are unable to login to your account (if you created one), please contact sales@spacew.com and we will make sure the links are e-mailed back to you as quickly as possible.
This software is only available for download. The main file (over 200 MB in size). If you have problems or require support, e-mail: sales@spacew.com. A manual will be installed with the software. You can view it or print it by navigating to the Proplab-Pro program folder once it has been installed. Or, you can read it on-line here (Software Manual). We strongly encourage everyone to read the manual carefully before requesting support. Extra detail on how the software operates is available in the Version 2 manual, also included.
Return Policy
There are no refunds for this software once downloaded. All purchases are final.
Access to download links
If you lose your download link to the software, or if you lose the software after a hard-drive crash or other catastrophe, contact sales@spacew.com and explain the situation. We have no problem sending the software to those who have purchased the software from us, even if it was years ago.